The bi-weekly news digest with current events from the U.S. and the world.
Morgan Muir is Out as Briefer. Briefers Will Be Rotated.
To fully understand what the topic is, we must first know what a briefer's duty is regarding a presidential administration.
A briefer works across 18 intelligence agencies in order to coordinate the effort of consolidating all the information into one cohesive intelligence report. This coordination, called mission integration, oversees the amassing of the intelligence document that is delivered to the White House on a daily basis.
Veteran analyst, Morgan Muir, has been discharged of this duty. There will not be one person taking his place. The briefer's job will be divided between many people, a departure from the norm.

This does not mean Mr. Muir is out completely. He will still be Director of Mission Integration, a top spot in the Office of the Director of National Intelligence, following Beth Sanner from the Trump administration.
He will be putting together the President's Daily Brief, or P.D.B.
He will still have a major role in amassing the briefing. He will not be giving it.
In an earlier reporting, The New York Times named Muir as the lead briefer, but this was before everything was decided as to whether there would even be on designated briefer.
It has been said that the Director of National Intelligence has pushed to have to briefing duties split, opting to delegate different tasks to different personnel. Muir is the person who allegedly provided "verifiably false information" to the Senate Intelligence Community in 2013, regarding the C.I.A.'s torture program.
---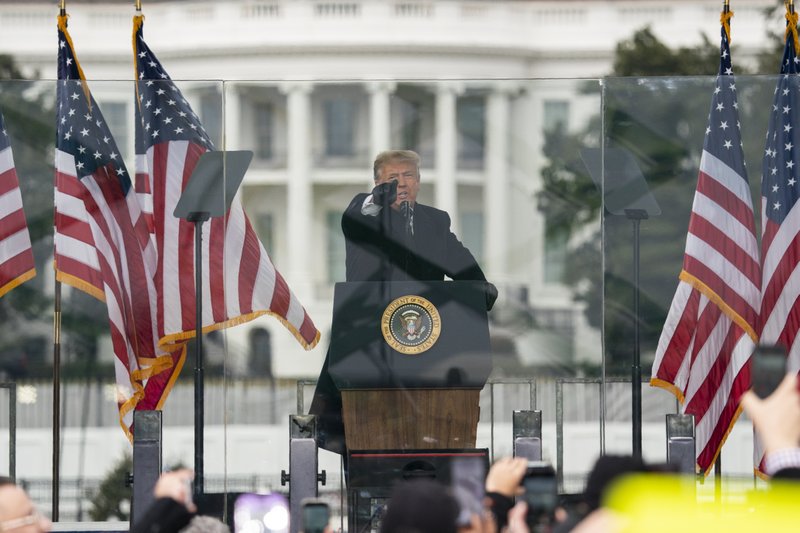 Impeachment Will Begin by Voting on Its Constitutionality
Trump's second impeachment trial will begin this week with a twist. The first votes will be about the constitutionality of the impeachment proceedings.
After researching the constitutionality myself, I came away with an ongoing argument but no definitive answer as to whether it is legal to impeach an ex-president.
He is being accused of "incitement of insurrection". Trump was invited to testify on his own behalf, and much to the media's chagrin, he declined to show. The point of contention that lead to this was a choice of wording, "fight like hell".
The Democrats are alleging this is a call to action that caused the protestors to march to the Capitol building and breach the establishment, stealing property, taking selfies, and leading to injuries and death.
His defense will be pointing out that he stressed the march should be peaceful. The other point of defense is his freedom of speech regarding his contesting of the election results.
It was requested from Trump's team to break the trial early on Saturday for Jewish Sabbath. The trial itself will start Tuesday with opening arguments. Each side will have up to 16 hours for presenting their case.
37 Trapped in India Glacier Flood
In Rudraprayag, India, rescuers worked on Monday to search for in excess of three dozen power plant workers who were trapped in a tunnel following a glacier breaking off sending a wall of water and flotsam down a mountainside.
To date, it has a death toll of 26 and 165 are still missing. Paramilitary groups, the military, and police are taking part in the search-and-rescue operations in Uttarakhand, a northern state.
It was caused when a part of the Nanda Devi Glacier broke off Sunday morning. It allowed the water trapped behind it to be freed leading to flooding and forcing the evacuation of villages in the flood waters' path. It damaged a hydroelectric powerplant on the Alaknanda was razed with a plant on the Dhauliganga was damaged.
The search includes looking downstream for the dead using boats. Many walked along the river banks with binoculars. Many are blaming global warming for the glacier fracture.
EU Defends Foreign Policy Over Russia Expulsions
During talks last week in Russia, three European Union Diplomats were expelled from the country.
The expulsions revolved around Navalny's imprisonment and a decline from Russian officials to visit Navalny.  Three diplomats have been expelled from the country.
EU foreign policy chief Josep Borrell heard of the expulsions via social media while on the phone with Russian Sergei Lavrov Friday. All of his attempts to stop the expulsions went unanswered.
Before the arrival of the diplomats, others from Germany, Poland, and Sweden had emissaries expelled from Russia from accusations of taking part of protests against the incarceration of Navalny.
There are now calls for new Western sanctions from a number of EU states.
Poland hosted a two-hour long video conference with envoys from Britain, the United States, Canada, and Ukraine. Vladimir Ashurkov and Leonid Volkov, two Navalny allies, were also present to discuss policy with Russia which includes sanctions.
Sources for post:
A Rotating Group of Intelligence Analysts Will Brief President Biden-NYT
Veteran C.I.A. Officer, Who Previously Briefed George W. Bush, to Lead Biden Intelligence Sessions-NYT
Trump lawyers blast impeachment trial as 'political theater'- AP
5 key questions for Trump's Senate impeachment trial- AP
Rescuers in India digging for 37 trapped in glacier flood –AP
EU defends foreign policy chief over Russia trip after expulsions | Reuters

---
---
Categories: News, US News, World news